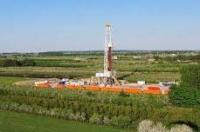 Palomar Natural Resources (PNR) has successfully completed its testing program of the Rawicz-12 appraisal well located near in Western Poland. Results of the test data gathered to date include a maximum test rate of 5.3 mmscfd (million cubic feet per day) with an average 24 hour steady flow rate of 4.5 mmscfd.
The flow rate and pressure data collected prove a significant gas accumulation at the Rawicz field. Estimated Ultimate Recoverable gas is yet to be determined. Successful appraisal of the Rawicz gas field is one of few recent success stories in Poland's struggling E&P sector. This success opens a broad range of opportunities for future investment in oil and gas in Poland.
Palomar purchased its 65% interest in Rawicz less than 9 months ago in June 2014 from San Leon Energy, who retain 35% interest and have no up-front drilling costs for the first two wells. In this short time PNR assumed operatorship of 7 concessions, built a competent operations team, obtained all necessary permits and approvals, drilled the Rawicz-12 well and successfully flow-tested gas. In the short term, PNR is focused on detailed analysis of results to determine the best way forward to develop the Rawicz field and continue to appraise adjacent prospects in the area.