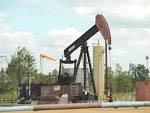 Pan Orient Energy Corp. says that the L53-ANC1 exploration well has been plugged and abandoned after failing to encounter commercial hydrocarbons.
Oil shows and elevated mud gas readings were observed while drilling through three separate target sandstone intervals, however these sandstones were indicated to have low permeability (tight) on the basis of open hole logs and pressure measurements.
Work is underway incorporating these well results into the regional model and initial interpretations suggest that potential quality reservoir sands may be expected further east into the deeper basin where a series of untested structural closures has been identified on recently acquired 3D seismic data.