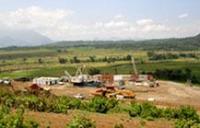 Pan Orient Energy Corp. is pleased to provide an update on operations in Thailand, Indonesia and Canada.
Concession L53 Onshore Thailand (Pan Orient Operator and 100% Working Interest)
Thailand Oil Production
Oil sales averaged 1014 BOPD in September and 1026 BOPD over the past 30 days. Current production is 1,035 BOPD with an additional approximately 150 BOPD shut-in (60 BOPD at L53-A1 due to a failed pump and 90 BOPD at L53-G3ST1 due to expiry of a 90 day production test period). On September 5, approval was received to turn the L53-G2 well back on for a second 90 day test period that will expire on December 6, 2013. One pump change out, one pump replacement and two new zone perforations are planned on existing L53 wells between now and year end with timing subject to well performance and equipment availability.