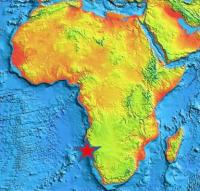 Pancontinental Oil & Gas NL advise that the exploration well Sunbird-1 has commenced drilling in Licence area L10A offshore Kenya.
The well is managed by the L10A Joint Venture operator BG Group, using the drillship Deepsea Metro 1.
The Sunbird-1 well is planned to take 50 to 60 days to drill to 3,000m below sea level, with an option to extend to 3,700m.
Extensive wireline logging and both pressure and fluid sampling are planned. The Joint Venture intends to plug and abandon the well in accordance with normal good oilfield practice regardless of the drilling outcome, however it is planned to leave the well in a condition that would allow re-entry at a later date. Water depth is 721m.