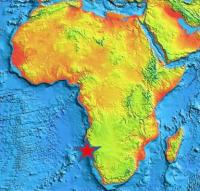 Pancontinental Oil & Gas NL recently attended meetings with the Kenyan Ministry of Energy and Petroleum ('the Ministry') to discuss the Kenyan offshore Block L8 Production Sharing Contract ('PSC') and its forward exploration programme.
Until recently the PSC participants consisted of Apache Corporation as operator ('Apache') 50%, Origin 20%, Pancontinental 15% and Tullow Oil 15%.
Unfortunately Apache, having decided not to carry out further exploration under the PSC, would not participate in any further discussions and the Ministry considers that the PSC has now expired.