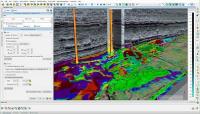 Paradigm® has announced the release of its Paradigm® 17 solution suite, running on an expanded high-definition platform. This release aims at ensuring that investments in data acquisition result in added value to drilling, completion and production. Paradigm 17 leverages the science of high definition, along with advanced technology and seamless integration, to improve asset team success.
Designed to deliver enhanced ease of use and workflow integration, Paradigm 17 enables users to:
 

Work within a truly integrated ecosystem, for everything from well log analysis to seismic imaging, seismic interpretation, geologic interpretation and subsurface modeling

 

Recover, process and visualise all available seismic data for better imaging and reservoir property recovery

 

Better identify sweet spots through advanced seismic data and well log analysis
Paradigm 17 introduces application and infrastructure enhancements to its SeisEarth® interpretation system, consolidating its core interpretation windows (3D Canvas, BaseMap and Section) into a single application. The result is improved cross-product integration, shorter work time and fewer button clicks. Waveform classification based on the well-established Stratimagic® neural network approach has been integrated into SeisEarth, together with a new Machine Learning-based, rock-type classification plug-in for interpreters. The new rock-type classification uses seismic data and facies logs to predict facies volumes and their probability of occurrence, to improve reservoir characterisation in conventional and unconventional plays. This release offers an enhanced multi-2D line framework for processing and imaging, that minimises manual intervention and maximises productivity. Full new 2D grid tomography and imaging workflows have also been added. 3D structural model-based tomography has been added to support geologically-constrained velocity models and strengthen integration between Paradigm GeoDepth® and SKUA-GOCAD™, to support the integration of geologic and geophysical models.
"In today's environment, customers are looking for technologies that can help them gain maximum knowledge from their data, in order to ensure faster, safer and more accurate drilling results," says Somesh Singh, Paradigm's chief product officer. "This release reflects an intensive effort on our part to deliver high science-based software solutions that will provide quality results in an efficient manner, while reducing risk and costs."
Other new processing and imaging features include a method for production-oriented estimation of effective Q from seismic data in the Echos® seismic processing application. In EarthStudy 360®, diffraction/specular imaging improvements, based on new post-processing of directional angle gathers, help minimise guesswork for interpreters.
Mike Ball, EVP Seismic Imaging and Data Management at Spectrum, says, "We've been testing the new high-productivity, GeoDepth 2D grid tomography, multi-line workflow introduced in Paradigm 17. This has been a result of a collaborative effort between Spectrum and Paradigm geoscientists and developers, and is a great example of Paradigm's attention to customer needs. We can already see a significant reduction in project cycle time and better end results."