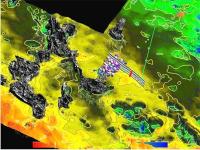 Paradigm® announces the release of the latest version of its integrated solution suite, Paradigm® 14, to its worldwide user base.
Over 700 new features and enhancements have been added to Paradigm 14, covering the entire upstream workflow – from processing and imaging to interpretation and modeling, reservoir characterization, reservoir engineering and drilling, and data management.
The focus of the Paradigm 14 release is the science and technology that enable effective seismic data processing and imaging, velocity modeling and seismic interpretation.