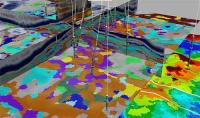 Paradigm® will showcase the innovative technologies included in its Paradigm® 17 solution suite at the 79th European Association of Geoscientists & Engineers (EAGE) Annual Convention and Exhibition, in Paris, June 12-15. Paradigm 17 leverages a high-definition platform, advanced technologies, seamless integration, and the use of Machine Learning. Booth presentations will also feature collaborations with industry leaders, such as Galp Energia and Dassault Systèmes.
The rich multi-disciplinary program includes high-science solutions that help geoscientists successfully increase accuracy and productivity in their E&P work, to improve recovery and reduce exploitation cost and risk.
Topics range from 2D multi-line velocity modeling and high-resolution diffraction imaging, to reservoir geomechanics, pore pressure prediction, precision depthing, efficient subsurface model quality control using SKUA®, and the use of production data to enhance reservoir characterisation. In addition, consultant Sabine Klarner will offer her take on mitigating risk at each stage of the E&P process, and Konstantin Smirnov of PetroTrace will discuss the use of advanced seismic data analysis to enhance confidence in small scale geo-feature prediction.
"Paradigm's vision is to create a high-definition software platform inclusive of key geoscience and engineering activities, to ensure that operators' investments in subsurface data assets are optimised for exploration and production decisions," says Duane Dopkin, executive vice president of Geoscience at Paradigm. "To deliver on this, we've added innovation and enhanced integration and interconnectivity in our Paradigm 17 release, which we look forward to sharing with visitors to our booth. Our experts will also be on hand for one-on-one presentations, for a more in-depth look at specific workflows or software applications."