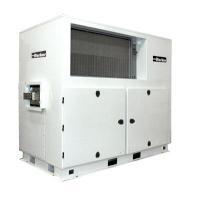 Parker Hannifin Corporation has been selected by Alevo Group, the Energy Service Provider, for the supply of systems to transfer energy from Alevo's GridBank(TM) battery modules to the utility grid. The announcement follows Alevo's agreement with Customized Energy Solutions (CES) in January to provide 200 MW of energy storage to the wholesale energy market in the largest deployment of energy transmission in North America.
The collaboration underscores the value of Parker's breakthrough power-conversion technology for battery energy storage. Parker's Global Energy Grid Tie Division will initially supply power conversion systems, battery container control, and thermal management systems to several key independent systems operators in the United States and Canada. The energy storage systems will enable the operators to substantially reduce emissions and increase efficiencies in their electricity distribution networks.
"Parker is committed to investing in technologies that will have a long term impact on society and everyday life," said Jim Hoelscher, general manager of the Parker Energy Grid Tie Division. "This project is just one example of how we're delivering solutions in the energy sector. Our power conversion technology and global experience in battery energy storage, combined with Alevo's battery technology, promise to create an unrivalled performance alliance that helps reduce emissions while creating significant energy efficiencies."