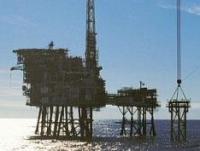 Parkmead is pleased to announce that the Pharos exploration well has commenced drilling in the UK Southern North Sea.
The Pharos gas prospect has the potential to contain up to 500 billion cubic feet of gas-in-place (86 million barrels on an oil equivalent basis) and is located in Blocks 47/4d, 47/5d and 47/10c. The Pharos structure is located only 14km south west of Parkmead's Platypus gas field, which was discovered in 2010 and successfully appraised with a horizontal well in 2012. Pharos is mapped as a much larger structure than Platypus and has the potential to contain almost three times more gas-in-place than the targeted amount at the successful Platypus discovery.
Pharos is a structural trap with the same Rotliegendes reservoir as the Platypus field which flow tested in 2012 at a rate of 27 million cubic feet of gas per day (4,500 barrels of oil per day on an equivalent basis). The Pharos prospect is a large closure with a vertical relief of up to 600 ft, and an areal extent of up to 6,000 acres. A discovery at Pharos would be highly valuable because it could be jointly developed with Parkmead's Platypus gas field, located only 14km from the Pharos drill location. This would significantly increase the value of the already economic development at Platypus. Data attained from the Pharos well will also provide a greater understanding of the remaining prospectivity in this area, which includes the Blackadder gas prospect in the adjacent block to the south of Pharos.