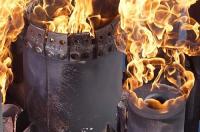 Cyberhawk Innovations, provider of unmanned aerial vehicle (UAV) and drone inspection and survey, has bolstered its international presence by signing a partnership agreement with Nordic Unmanned, Norway's leading UAV operator.
The agreement means that customers in Norway will be able to take advantage of Cyberhawk's industry leading cloud based asset management software, iHawk, which will be combined with Nordic Unmanned's detailed local knowledge and UAV experience.
The partnership reinforces Cyberhawk's growing global reputation and maintains Nordic Unmanned's position as the leading UAV company in Norway. Cyberhawk completed the first ever drone inspection on the Norwegian continental shelf in 2013 with a flare inspection on an FPSO (Floating, Production Storage and Offloading), and together the two companies have already successfully completed a number of projects in Norway with major oil and utility asset operators.
Cyberhawk's CEO, Craig Roberts, says, "This collaboration enables us to effectively address the increasing inspection needs in Norway's oil and gas and utility sectors, providing both onshore and offshore clients with a local, reliable and proven UAV inspection and survey solution, wrapped up in cutting-edge cloud based asset management software."
"This partnership is a significant step forward in further delivering safe, cost effective UAV and asset management solutions and we are pleased to team up with Nordic Unmanned, a company which shares our approach to innovation and customer service," adds Roberts.
Knut Roar Wiig, CEO at Nordic Unmanned says, "This agreement is a key part of Nordic Unmanned's strategy to play a major role in the Norwegian Continental Shelf. Together with Cyberhawk, we can provide a high quality, professional service for our customers."