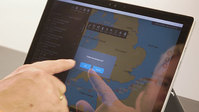 NAVTOR has announced the launch of NavStation 4.0, updating the world's first digital chart table with a new passage planning module to greatly reduce on-board and fleet-wide administration duties. Key features include the automatic logging of passage plan information, digital checks to reduce human error, and the unique ability to share routes across fleets, so any vessel or management office with NavStation software can access planned routes for assessment and future sailing.
NavStation launched in 2014, allowing navigators to easily gather, view and manage critical voyage information – such as ENC, weather data, tidal information and digital publications – in one place for the first time. An initial passage planning module was introduced last year, easing the workload of navigators who had previously been required to input all necessary planning information, such as waypoint data, manually.
This feature has now, according to NAVTOR CEO Tor Svanes, been refined to deliver even greater efficiency.
"NavStation is already the best tool for maritime route planning and optimisation, but after close consultation with our users we thought we could push the passage planning functionality to the next level," he explains. "Now, not only can navigators create safe, compliant documentation automatically, but they can also exchange planned routes with others, multiplying the efficiencies across entire fleets. The man hours this will save, and the insight this unlocks, has the potential to deliver real competitive advantages for our customers," says Svanes.
"In terms of additional safety, the improved module also provides complete route overviews of warnings and alarms, allowing navigators to prepare for, and if necessary adjust, routes through dangerous areas and challenging conditions. It is our mission to simplify tasks, enhance safety and improve efficiency for both navigators and ship operators. NavStation 4.0 really does embody that drive," he continues.
Global tanker owner and operator Odfjell is one of the customers NAVTOR has been working with on the new release. Speaking of the product development process and expectations for NavStation 4.0, Thomas Lieske, Senior Marine Superintendent at Odfjell, notes: "We are very pleased that NAVTOR have included us in the development of the latest version of NavStation, and that they have acted on our feedback to make sure the result is a product that adds real value for the navigators. I believe that NavStation 4.0 has the potential of making a real impact on Odfjell's day to day operations by reducing the administrative workload, and make the process of planning voyages faster and more efficient."
NAVTOR Product Manager, Gaute Fossmark, believes that working closely with respected shipping companies has delivered real insight into user requirements: "Collaborating with companies of the standing of Odfjell enhances our understanding of the demands facing increasingly busy navigators in today's shipping industry," he says. "We can see the tasks that genuinely need their attention, which ones needlessly drain their time, and how we can refine our products to ensure they focus on what's important – safe and efficient navigation – while our systems ease the burden of administration. Building this kind of relationship is key to answering, and exceeding, today's market demand."
NavStation 4.0 is available on standard computers, touch screen devices and specially made 'giga-pads' that allow users to simply grab, swipe and manoeuvre all overlaid layers of information. Further features include the integrated NavTracker vessel management function and dynamically optimised routes to enhance decision making and reduce fuel use and emissions.