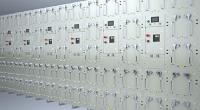 Plan B Energy Storage (PBES), providers of battery energy solutions for the marine market, has announced the launch of its Harpoon battery product line. Harpoon Power 65 and Harpoon Energy 97 energy storage systems deliver a faster return on investment from battery technology, and utilise the latest advances in lithium-ion cell technology to deliver a safe, high quality and commercially viable clean technology solution for ship owners and operators.
Specifically designed and suited for commercial applications and with up to 90,000-hour calendar life, Harpoon Energy 97 is the most weight-efficient energy storage system created by PBES, and is ideal for cruise ships and fast ferries where space and weight are at a premium. The system provides at 35% decrease in the cost, weight and volume of the battery while maintaining quality and safety standards.
Harpoon Power 65 is a continuation of an existing PBES line, and is capable of more than 15,000 cycles at 80% Depth of Discharge (DOD). This makes it ideal for applications where more power is needed for longer, such as vessels operating in remote locations.
Both systems incorporate PBES' Thermal-Stop and CellCool systems, which together offer the only commercialised energy storage product to prevent thermal runaway (lithium battery fire). The systems also utilise PBES' CellSwap technology, which allows - for the first time in the maritime industry - the re-coring of batteries after five years. The technology further enhances lifecycle value and allows users to benefit sooner from advances in battery technology.
PBES CEO Brent Perry says, "The Harpoon product line consolidates PBES' position as the leader of innovative solutions for the marine battery market. Harpoon Power 65 and Harpoon Energy 97 follow PBES' tradition of placing safety and value at the forefront of energy storage design, an attribute that is fundamental to the continued successful adoption of batteries across the marine sector."
"Through the Harpoon batteries, we can provide a faster path to return on investment for ship owners and operators, while delivering a significant contribution to wider industry efforts to reduce emissions and combat shipping's impact on the environment."
With more than 1,000 batteries deployed on seven vessels this year, PBES has shipped and installed more volume of marine energy storage product than any other company.