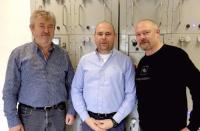 Plan B Energy Storage (PBES) and Noris Automation GmbH have announced a partnership agreement to represent PBES energy storage for hybrid and fully electric commercial marine vessels. This further underscores the on-going green shift that is now occurring in the commercial marine industry.
"Noris Automation is a company with deep roots in the marine industry," says Brent Perry, PBES Chief Executive Officer. "Their attention to exceptional quality and made in Germany products along with devotion to customer service, provide PBES with confidence that Noris is the ideal partner to bring our products to marine customers."
"We are pleased to announce the agreement with PBES," states Uwe Ulrich, Managing Director, Noris Automation GmbH. "Much of the future of shipping will be based on hybrid and electric propulsion. After we evaluated the industry option; as well as the sustainable movement around the globe, the advantages of PBES liquid cooling were clear, and the company's service driven values fit well with our own."
The PBES energy storage system has been designed to the highest standards of performance and safety and is designed to seamlessly integrate with all top OEM propulsion systems.