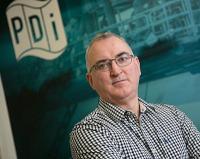 Project Development International (PDi) Ltd, a provider of multi-disciplined engineering, project management and project services to the international energy industry, has announced the appointment of Daniel McGowan as its new CEO.
Bringing over 25 years of industry experience to the role, McGowan has held a variety of operational and project positions in the oil and gas sector, most recently as CEO at Harnser Group, where he led the organisation in the security and risk sector.
His career has also seen him build and develop Altra Energy following its purchase by Vienco in 2005, exiting in 2010 before holding a series of management roles within Premier Oil.
Commenting on his appointment, McGowan says, "I'm extremely pleased to join PDi and am particularly passionate about its market leading service offering and innovative solutions, for which the company has an excellent global reputation. I look forward to fronting the team, and I am confident my skills and comprehensive knowledge of the industry will help to further underpin PDi's growth and leading position in the marketplace."
PDi, part of the Tattva Group, was established in 2003 and specialises in engineering and management of energy related projects. The company employs more than 90 multi-disciplined personnel, providing project management and specialist engineering support services throughout the life cycle of a project, from discovery to decommissioning.