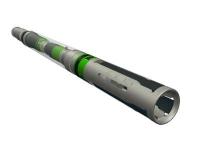 Peak Well Systems (Peak) has developed a new Multi-Action Pulling (MAP) Tool which will further simplify offshore slickline operations and reduce inventory.
Unlike all other competitor products, the Peak MAP Tool is able to pin up, release or recover a wide range of downhole equipment fitted with external fishnecks without the need for any additional specialised tooling, thus simplifying inventory, improving operational efficiency and reducing overall cost.
The new MAP Tool compliments Peak's existing range of Multi-Action Tools, designed to increase functionality and flexibility for slickline operations.
The design of the Peak MAP Tool features a unique and robust latch system to tackle a range of external fishnecks with varying threads and lengths. Powerful latch fingers together with an adjustable core extends the reach of the Pulling Tool, giving it a short, medium and long reach capability suitable for any situation.