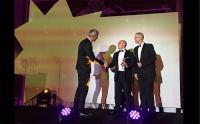 Peak Well Systems, a specialist in the design and development of advanced downhole tools for well intervention, has announced that its IRIS-3D technology has won the Innovation Award at the annual Energy Institute Awards (EI Awards) held in London on November 10, 2016.
In its 17th year, the annual EI Awards recognise the highest level of commitment to serving society and outstanding achievements within the energy sector.
This years' competition received great interest with over 140 entries from across 23 countries submitted across a number of categories. Peak was one of six finalists competing in the Innovation Award category.
Peak was represented at the EI Awards by Robin McGowan (CTO), Gus Brown (Engineering Development Manager) and Stuart Ferguson (Chairman). Mark Foster, former British swim team champion and eight-time world record holder, presented the award which was accepted by Gus Brown on Peak's behalf.
Subject of a suite of patents filed at the start of the year, IRIS-3D has long since graduated from 3D printed plastic to rapid prototyped steel parts.
Robin McGowan, Chief Technology Officer at Peak Well Systems says, "This is a fantastic achievement for Peak, in particular for our engineering team, who have worked very hard in the initial conception and development of this innovative technology."
"Given the calibre of submissions, this award is a testament to the quality of innovation and design that we have built at Peak and to the potential of IRIS-3D technology to fuel our continuing international growth. I am sure that IRIS-3D will unlock many new and exciting markets for Peak."
True to Peak's guiding focus on simple, reliable systems, IRIS-3D is beautiful in its simplicity and yet provides a revolutionary, high expansion, mechanical support system that can applied to a wide range of possible applications. For downhole applications in particular, it can be used to extend the performance of traditional elastomer seals and therefore enables an entirely new suite of wellbore sealing systems.
The IRIS-3D system has already undergone extensive testing at Peak's Perth and Aberdeen Technology Centres in Perth (Australia) and Aberdeen (UK), achieving excellent results in practical testing of system performance, reliability and debris tolerance. Simply through the addition of IRIS-3D components to Peak's existing downhole SIM plug system, the team has been able to extend the performance of the SIM seal from 150°C and 5,000psi up to 200°C and 10,000psi.
On the back of these very encouraging early tests, the development path is now following two project tracks: one focussing on the ability of IRIS-3D to develop a new range of high performance Medium Expansion plugs and the other exploring the potential of IRIS-3D in High Expansion seal systems.
Still in feasibility phase this second path is particularly exciting as it can potentially deliver an IRIS-3D enabled, high performance, through tubing retrievable plug capable of passing through a 4.5in tubing before expanding over 70% to seal in 7in casing.
The IRIS-3D technology has many other potential applications beyond downhole seals and extrusion barriers including drilling tools, connectors, surface pipeline tools and more. The engineering team is also working to identify what applications can best use the new technology and is looking for partners in the oilfield and beyond to help tap into this significant potential.