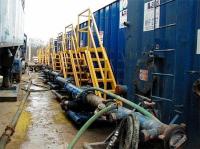 Pegasi Energy Resources Corp. has spudded The Huntington #4 well in Marion County, Texas.
At 4pm on October 6th drilling had reached a depth of 1,714 ft.
The Huntington #4 well is the first in a planned program of ten wells to develop the Travis Peak and Cotton Valley gas/condensate and oil bearing formations at depths of up to 9,200 ft. Both vertical and horizontal wells are planned in the program to develop oil and gas resources on Pegasi's acreage in Marion County.