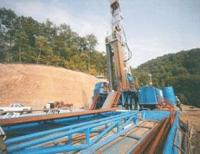 Penn Virginia Corporation has sold the right to construct and operate a crude oil gathering and intermediate transportation system covering a portion of its Eagle Ford Shale acreage to Republic Midstream, LLC (Republic) for $150 million.
Republic is a joint venture funded by ArcLight Capital Partners, LLC (ArcLight) that is managed by American Midstream Partners, LP and JP Energy Partners, LP (JPE). AMID and JPE are both affiliates of ArcLight. Part of the net proceeds from the sale will be used to repay the outstanding balance on our revolving credit facility, and the remainder will be used to help fund our Eagle Ford capital program.
The oil gathering system and an associated central delivery and blending station will be located in Gonzales and Lavaca Counties, Texas and are expected to be constructed and operational by mid-2015.