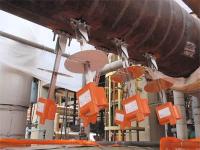 Permasense, provider of remote monitoring solutions to the oil, gas and petrochemicals industries, has relocated its Houston premises to accommodate its expanding team. The UK-headquartered company – which launched its Houston operation last year – now employs a total of five people to service the Americas.
The new premises, which is located close to Houston's Energy Corridor, is approximately 1,300 square feet and can accommodate up to 10 staff. The new space will enable the continued expansion of the company's sales and support teams, as well as providing facilities for technology seminars, training sessions and other events.
The move follows an outstanding year for Permasense. The company recorded 35% growth as a result of soaring demand for its breakthrough solution – the ET210 integrity monitoring system – and a milestone order for its first Gulf of Mexico application.
Permasense supplies integrity monitoring systems to clients in both the upstream and downstream sectors that improve the safety, economics and efficiency of operations. Permanently-mounted sensors attached to strategic points in the infrastructure take continuous measurements of equipment wall thickness and wirelessly transmit the data for analysis and enhanced decision-making at a central location.
At any time, operators can gain immediate insight into exactly how assets are coping with ever-changing operating conditions. This enhances real-time operational decision making leading to improved asset uptime and increased profitability. In addition, Permasense 360° provides subscribers with enhanced support from Permasense's extensive experience enabling them to maximise the value to their operations.
Tom Champlin, President of Permasense Americas, says, "It's incredibly rewarding to provide our clients with specifically tailored monitoring solutions to match their applications. Our solutions deliver enhanced plant reliability and profitability. We are enabling our oil and gas clients to maximise operational flexibility and asset utilisation at a time when they need it most. We actively listen to our clients and their ever-changing needs and this feedback flows directly into our innovation pipeline. At Permasense, we are striving to enhance the overall customer experience, ultimately driving increased client engagement and long term satisfaction."