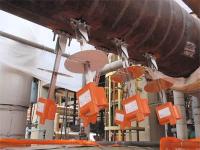 Permasense has opened an Aberdeen office to demonstrate its commitment to upstream clients. This follows the recent launch of ET210 – Permasense's break-through product for the real-time monitoring of corrosion and erosion at upstream oil and gas assets.
Heading up the new office is 15-year industry veteran Iain Fullerton, who has been appointed as upstream business manager. In the role, Fullerton will be responsible for leading an EMEA sales team to take Permasense's innovative monitoring systems to the region's operators.
Peter Collins, CEO at Permasense, comments, "The challenging industry environment is encouraging operators to look for innovative solutions that have a genuine impact on project economics and offer quick return on investment. Permasense systems are renowned for increasing operating efficiency and enhancing production at oil and gas assets, with a payback time of weeks. The quality and frequency of the data delivered offers operators real-time insight into the impact of production operations – including flowrates, sand and acid levels – on equipment integrity.