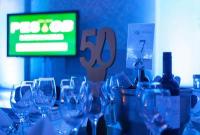 The staff of the Petroleum Exploration Society of Great Britain (PESGB), the organisation dedicated to improving the public's understanding of the technical benefits of oil and gas exploration, are celebrating a successful day of presentations and an evening of festivities that marked the Society's 50th birthday.
Supported by sponsors Novas Consulting, Schlumberger and Shell, the PESGB held a day of presentations (in the impressive Grand Hall of London's Connaught Rooms) that looked at the past, present and future of the British oil and gas industry.
Appropriately, sessions were chaired by past, present and future Presidents of the Society whilst numerous senior figures from the oil and gas industry presented their thoughts on new opportunities and recent successes in the North Sea, exploration and development west of the Shetland Islands and in Ireland as well as looking to the future as they considered new technologies, fuels and geographical targets.