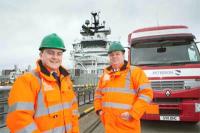 International energy logistics group Peterson Offshore Group BV (Peterson), announced its consolidated results for the 12 months ending 31st December 2014.
Revenue was up on the previous year at €405m (2013: €363m) and operating profit decreased by 6% to €10.0m (2013: €10.6m). The group's UK based companies, including Peterson UK Ltd and 80:20 Procurement Services Ltd contributed 45% of the group's operating profit, down from 52% in 2013 reflecting growth in international contribution.
Commenting on the Group's performance Erwin Kooij, CEO of Peterson Offshore Group said:"This is a challenging time for our industry however, despite this backdrop, we remain committed to supporting our customers, the industry and our staff, to respond to the continuing low oil price by providing innovative and collaborative cost saving solutions to ensure a long term sustainable future and we continue to invest in equipment, infrastructure and our people.