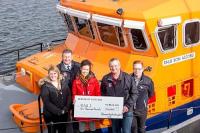 Two charities are each GBP 10,000 better off thanks to a generous donation from international energy logistics provider Peterson and its employees. Staff raised GBP 10,000 for Friends of Anchor in Aberdeen and the Royal National Lifeboat Institution which were chosen by employees. The company matched that sum bringing the overall total donation to GBP 20,000.
Peterson base operative Francis McCarthy was first diagnosed with non Hodgkin's lymphoma in 2001 and has used the support of Friends of Anchor throughout his treatment.
He comments, "I can't begin to explain how thankful I am for the care I received through Friends of Anchor. The volunteers do such a fantastic job and to see the charity supported by my colleagues at Peterson was very touching. I've seen first hand how donations like this are used and I know it will make a real difference to the unit."
The RNLI was chosen because of Peterson's strong association with the offshore maritime industries. Anne Scott, RNLI, says "The Royal National Lifeboat Institution is the charity that saves lives at sea. As a charity we receive no government funding and rely on the support of individuals and companies to enable our volunteer crews to carry out their life-saving work. Without this help there would be no RNLI and our crews would not be able to save an average of 24 people per day.
"We are extremely grateful to the management and staff of Peterson for this very generous donation which will make a huge difference to our work in the Aberdeen area. Together we save lives."
Both charities received their donations at a special presentation on Friday 4th March, which was attended by Peterson directors, employees and charity representatives.
Murdo MacIver, director, Peterson comments, "The fundraising efforts of our employees over the last 12 months have been overwhelming. The time and money each of them have taken to organise and contribute to the events has been great to see, and we look forward to continuing our charity efforts in 2016."