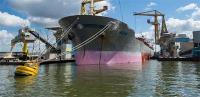 Peterson, the global logistics provider, has launched a new technology platform designed to revolutionize the oil and gas industry supply chain.
eCargo which falls with Peterson's eLogistics solutions is a business management framework that provides a foundation for processes to be used consistently across the globe. Combining information and process modeling management, reporting and financial management and operational execution it will include eCargo, eCCU, eTransport, eWarehousing and eMarine.
Following a successful roll out in the North Sea, the primary application, eCargo will, for the first time, provide clients with real time data on the status of their shipments and encompasses all aspects that currently take place at the quayside, combining them into one simple to use web application accessed through an internet browser.