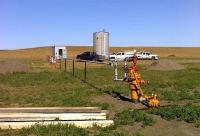 Petro One Energy Corp. has confirmed oil production from its horizontal Viking earning well 6- 22- 30- 27W3 at Milton, Saskatchewan based on an initial 54-day production test.
The well was brought on production on January 15, and recovered some 3,500 barrels of frac fluid before being shut in for breakup on March 14. The well resumed production on April 15 and thereafter produced oil at an average rate of 10 bopd until April 28, when management determined to shut it in. The water cut showed some improvement in April, but did not improve sufficiently to offset water disposal costs at current oil prices.
The well will be reevaluated to be brought back on production at such time as oil prices significantly improve and Petro One can reduce operating expenses - primarily trucking and water disposal costs - to the extent required to make the well economic. The Company has prepared an application to convert its existing 15-15 well at Milton into a water disposal well to further improve the economics of the entire Milton field as oil prices improve. The company will also continue evaluate the possibility of tying in gas from the Milton field to further enhance its economics.