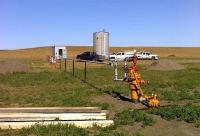 Petro One Energy Corp. reports that Well 6-22, its first horizontal well drilled in the upper Viking, was completed as planned and has been on production since mid-January. The well, which is located in the Milton oil field in western Saskatchewan, is currently producing emulsion and recovering frac fluid from the 3,500 barrels of frac fluid used for completion in early January.
The company will report the average production volumes once the majority of the frac fluid has been recovered and the emulsion ratios normalize. The precise oil cut from the emulsion will be known once Petro One receives its first monthly statement from the processor.
The horizontal drilling at 6-22 confirmed excellent reservoir characteristics and continuity of a thick Viking sand underlying Section 22. The Milton Viking reservoir has a strong gas drive that accounts for the excellent production volume demonstrated by this new horizontal well.