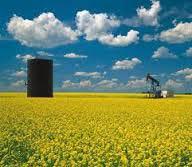 Petro One Energy Corp. has received the license to drill its first horizontal well at Milton, where the Company's consulting geologists have identified 49 net horizontal upper Viking drill locations. The 6-22 well is the first well designed to specifically target the thick Upper Viking formation as an initial step in a detailed horizontal drilling plan designed to efficiently exploit approximately 2,500 acres that are underlain by Viking sand. The Company plans to spud the first well as soon as the rig is available.
The target Viking reservoir on the property is 10 metres thick and contains oil throughout. The technical team has described oil saturated core from two vertical wells on Petro One's property as excellent quality Viking sand and strongly recommend focusing on horizontal drilling in the upper Viking as the best way to exploit that reservoir.
Core from the nearest Petro One well had an average porosity of 21.7% and an average permeability of 16.89 mD over the entire interval. The data from those wells indicates that horizontal wells targeting the upper Viking should provide water-free or near water free production as is the case with a majority of other horizontal Viking wells in the immediate area, including those drilled by Novus at the newly discovered Marengo field, just 1.5 kilometres south of Milton.