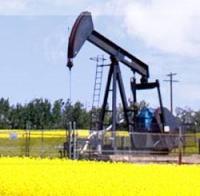 Petroamerica Oil Corp. says that testing operations have established a stabilized test rate of 760 barrels of oil per day (bopd) from the Langur-1X exploration well on the LLA19 Block in the Llanos Basin of Colombia.
After being drilled to 13,717 feet TD, the Langur-1X exploration well was cased to evaluate 14.5 feet of Gacheta C oil pay. Two intervals were perforated and the well was tested for fifteen days under flow-assistance by coiled tubing and nitrogen, establishing a stabilized flow rate over the last 24 hours of 760 bopd of 24° API oil (380 bopd net to the Company before royalty) with a 27% watercut.
The watercut was steadily decreasing for the duration of the test from approximately 50% at the beginning of the test, to 26% at the time the well was shut-in. This watercut behaviour is not typical of water break-through from an active aquifer and the produced water is not interpreted to be coming from a nearby oil-water contact.