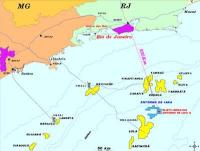 Petrobras announces that in November, Petrobras' total oil and natural gas output in Brazil was 2,342,000 barrels of oil equivalent per day (boed), up 1.2% from the 2,315,000 boed extracted a month earlier. Including the share operated by Petrobras for its partners, the rise in relation to October was 1.9%. Oil output exclusively from Petrobras' fields in Brazil averaged 1,957,000 barrels per day (bpd), remaining within the range of October's output of 1,960,000 bpd.
The new monthly and daily pre-salt output record of 339,100 bpd and 362,300 bpd, respectively, contributed to the stable oil output in November, in addition to the start-up of platform P-63 in the Campos Basin Papa-Terra field, which took place on November 11.
It is also important to highlight the start-up of new wells interconnected to the platforms P-26, in Marlim, and P-53, in Marlim Leste, as part of the complementary development of these fields, in Campos Basin. Also in November started the Extended Well Test (EWT) of Lula Extremo Sul, in Santos Basin pre-salt, through the FPSO Cidade de São Vicente.