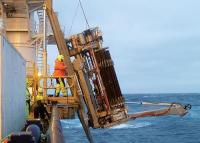 Benthic, a global geosciences company, has been awarded a contract by the Libra Consortium for an offshore geotechnical investigation in the Libra Field area located approximated 140 miles off the coast of Rio de Janeiro, Brasil.
Benthic's PROD (Portable Remotely Operated Drill) will perform in-situ testing and sampling to a maximum penetration depth of 80 meters below the mudline, in water depths ranging from 400 to 2,300 metres. Following data collection, Benthic will log, process data, and test and profile the samples with a Multi Sensor Core Logger on-board the vessel. Advanced onshore laboratory testing and consolidation reporting will be managed by Benthic.
"This milestone project will expand Benthic's operations into Brazil and is the maiden seafloor drilling project in the country. We are confident in PROD's ability to execute the project to Petrobras's highest satisfaction," states Greg Fyffe, Vice President Operations. "Benthic looks forward to building a long-term working relationship with Petrobras and hopes Brazil can become a cornerstone market for the company."
Benthic will begin field operations in the fourth quarter of 2016.