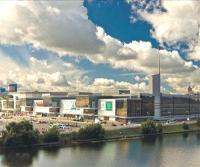 Petrobras and its partners have broken through the barrier of 500,000 barrels of oil per day (bpd) produced in the Brazilian pre-salt, just eight years after the first discovery in the region.
To reach the same level of total production, the company took 31 years, from 1953 - the year it was established - until 1984. This comparison was highlighted by Brazilian President Dilma Rousseff, Minister of Mines and Energy Edison Lobão and the CEO of Petrobras, Maria das Graças Silva Foster, who participated today in a ceremony to celebrate this historic milestone at Petrobras' head office in Rio de Janeiro.
President Dilma Rousseff stressed that Petrobras' first 500,000 bpd output, attained in 1984, required approximately 4,000 production wells. 'Now, just 25 wells were needed [to produce 500,000 bpd in the pre-salt],' she said.