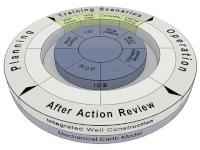 eDrilling, provider of drilling and well performance solutions, and PetroEDGE (PE), a provider of targeted training courses for the industry, have announced their partnership to support the upstream oil and gas companies in UAE and Asia. Both eDrilling and PE are committed through their partnership to help their upstream customers train and improve the competency of engineers via realistic simulator training using state of the art eDrilling software and simulators.
eDrilling will provide their game changing planning, training, drilling, analysis, and learning solutions, along with PE's comprehensive training course development and delivery support.
"eDrilling is confident that with this partnership with PE, we are well positioned to provide both our local and global customers in the region with the right training support to better achieve their drilling and well performance goals, and serve their needs as they grow and expand," says Derek Nadhan, Manager, Technical Services, eDrilling APAC.
"This partnership enables PE to now serve our clients with a wider selection of upstream training courses through realistic simulator training to meet their competency and well performance needs," says Easwaran Ganesan, Director of PetroEDGE.