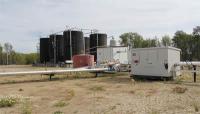 Petroforte International Ltd. has sold its non-producing Lloydminster heavy oil properties to a private Saskatchewan-based company. The sale closed on December 17, 2013 for net proceeds of $561,000.
Allan King, President and CEO, commented, "The selling of the non-core non-producing Lloydminster properties allows us to concentrate on the development of the Flood assets early in the new year which will add to the excellent results we have experienced at our Brazeau River properties."
At Flood, Petroforte will commence development of the Montney oil property in Q1, 2014.