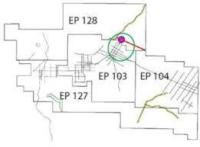 PetroFrontier Corp. says that the fourth well in its 2014 Work Plan and Budget has now spud and drilling is underway.
The OzDelta-1 well is a vertical exploration well located in Exploration Permit 128. This is the fourth of up to five vertical test wells to be drilled as part of the 2014 WP&B. All wells will include an extensive open hole evaluation program and up to three of the wells will be cased for future hydraulic fracture stimulation and production testing.
Prior to the spud of the OzDelta-1 well, Statoil Australia Theta B.V., PetroFrontier's joint venture partner and the operator of the 2014 WP&B, successfully drilled and cased the third well of the 2014 WP&B, OzGamma-1. All of the planned open hole well evaluation activities have been completed and are now being analyzed. A total of 96 metres of core were recovered in a continuous coring process, which penetrated the Lower Arthur Creek and Thorntonia formations.