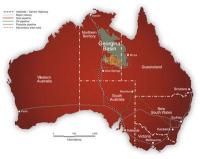 PetroFrontier Corp. announce that the third well in its 2014 Work Plan and Budget (the "2014 WP&B") has now spud and drilling is underway. T
he OzGamma-1 well is a vertical exploration well located in Exploration Permit 103. This is the third of up to five vertical test wells to be drilled as part of the 2014 WP&B.
All wells will include an extensive open hole evaluation program and up to three of the wells will be cased for future hydraulic fracture stimulation and production testing.