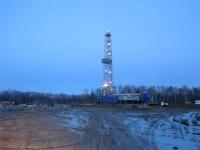 Petrogrand AB has signed a Letter of Intent (LOI) regarding the acquisition of 49 percent of the shares and votes in Ripiano Holding Ltd, a Cyprus holding company with an oil producing subsidiary in Russia. The purchase price amounts to about 180 MSEK and is paid in cash.
The final Sale and Purchase Agreement (SPA) and the shareholders' agreement will be signed shortly and consequently announced upon completion. Both agreements are subject to approval by the Board of Directors of Petrogrand.
The Russian Company operates in the European part of the Russian Federation (west of the Ural Mountains) and currently has oil production of exceeding 1 500 barrels per day (>200 tonnes).
A reserves estimation, undertaken in June 2014 according to Western SPE(Society of Petroleum Engineers) criteria states that total Proved reserves "1P" amounts to 15.40 million barrels (2.11 million tonnes). Proved and Probable reserves "2P" amount to 18.25 million barrels (2.50 million tonnes).