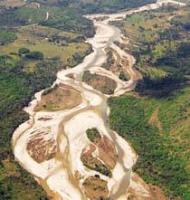 Petrominerales announces an operational update.
Casanare Este Block (Central Llanos Basin), Colombia
On our Casanare Este Block, we drilled our first appraisal well to our Curito discovery, Curito-2. The Curito discovery well tested oil in four different reservoir formations, the Ubaque, Gacheta, Mirador and Carbonera C7. Since June 13th, Curito-1 has been on production in the C7 formation and has produced an average of 2,847 barrels of oil per day ("bopd") at a 7% water cut. We drilled Curito-2 to a depth of 8,566 feet, targeting the Ubaque Formation, however, we were only able to open hole log the C7 Formation. We calculate 18 feet of potential net oil pay in the C7 formation based on our petrophysical interpretation. We are production testing the well in the C7 formation. The Curito-2 well has been producing under natural flow conditions for two days at a stabilized rate of over 1,900 bopd of 34 degree API oil with a 7% water cut.
Orito (Putumayo Basin), Colombia
At Orito, we successfully completed our first horizontal well, Orito 196 Hz. Over a horizontal length of 1,570 feet we penetrated 477 feet of net sand in the Villeta Formation. Test rates from the initial 12 hour period, with an ESP running at 35Hz, for this well are over 250 bopd of 26 degree API oil with a 78% water cut. For the remainder of the year, we are planning to drill at least one additional well, Orito 150.