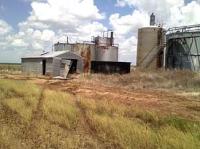 Petron Energy II, Inc. announces Operations update on Garrett Lease in Creek County, OK.
On July 8, 2014 the company had closed on its Garret Lease acquisition with Mr. Bill Sperling. The company announced this morning that they have stimulated two zones in the Garrett #3 well and have begun to swab the well back. Floyd Smith, President and CEO of Petron Energy II, Inc., states "Our swab test on the Garrett #3 well have been successful thus far and we hope to finalize our testing sometime this week and put the well online for commercial production very soon."
"The company plans to commingle the Wilcox and Dutcher zones and produce both pay zones simultaneously. The Garrett #3 has a very well developed payzones remaining behind pipe for potential future production. The company will report results as soon as they are available."