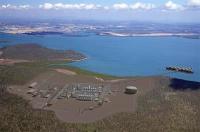 PETRONAS' subsidiaries Malaysia LNG Sdn Bhd (MLNG) and PETRONAS LNG Limited (PLL) have signed two contracts to supply CPC Corporation of Taiwan with a total of up to 2.6 million tonnes per year (mtpa) of liquefied natural gas (LNG), for a period of six years.
Delivery to CPC is scheduled from the second quarter of 2014 and 2015 respectively.
The volume, which will ship from the PETRONAS LNG Complex in Bintulu, Sarawak and other supply sources, is to meet the demand and requirements of CPC's customers in Taiwan, primarily the country's power sector.