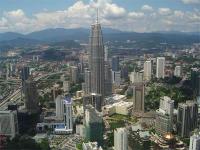 PETRONAS says that the Government of British Columbia and Pacific NorthWest LNG have brought resolution to key provincial policy matters that provide added certainty required for advancing development of the proposed liquefied natural gas (LNG) facility in Port Edward, British Columbia.
"I wish to extend my appreciation to the Government of British Columbia for its leadership towards achieving this key milestone," said Tan Sri Shamsul Azhar Abbas, President and Group Chief Executive Officer of PETRONAS. "Premier Clark and Minister Coleman have been resolute in their commitment to bring a nascent LNG industry in British Columbia to fruition."
In recent months, British Columbia met its commitment to put in place a competitive LNG Income Tax, details for offsetting greenhouse gas emissions, plus new agreements with First Nations, including recent legislation with the Nisga'a Nation so that its people can benefit if Pacific NorthWest LNG moves ahead.
"British Columbia is on schedule to build a liquefied natural gas industry and secure new economic growth," said British Columbia Premier Christy Clark. "I am pleased we have furthered our prospects to supply clean natural gas to international markets by reaching another milestone with Pacific NorthWest LNG."