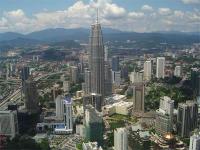 Petroliam Nasional Berhad (PETRONAS) concluded the handover of 50 percent equity owned by Sarawak Shell Berhad (Shell) to PETRONAS Carigali Sdn Bhd (PCSB) in a closed ceremony held at PCSB Sarawak Operations Office in Miri, Malaysia.
The ceremony saw the Head of Sarawak Asset, Sarawak Shell Berhad, Chok Chee Tsong officially handing over documents symbolizing Shell's equity to PETRONAS Vice President, Production Malaysia, Upstream Malaysia, Johari Dasri at 12.01am Aug. 21.
Commenting on the handover, PETRONAS Senior Vice President Upstream Malaysia, Mohd Anuar Taib said, "PETRONAS would like to thank Shell for all the work they have done at MLNG Dua and PETRONAS will continue to emulate and improve the previous operating philosophy for the MLNG Dua offshore facilities during this time that PETRONAS is entrusted to do so."
"PETRONAS is committed to ensure that there will be no interruption to the supply and demand of gas and achieve stability in the operations of MLNG Dua," said Anuar.