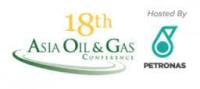 In a few short weeks Asia's oil and gas capital will be hosting one of the region's top oil and gas events, as the 18th Asia Oil and Gas Conference (AOGC) gets underway from 17 – 19 May at the Kuala Lumpur Convention Centre.
Under the theme "Realising Opportunities Amidst Challenges", discussions will focus on hot topics such as novel technology exchange, collaboration strategies, monetisation of unconventional resources and addressing the tensions between suppliers and consumers of gas to name but a few.
Malaysia's national oil company PETRONAS will be the host organisation for the event. The recently appointed President & Group CEO of PETRONAS, Datuk Wan Zulkiflee Bin Wan Ariffin, will be chairing the AOGC 2015 Advisory Panel and Organising Committee as well as speaking in the CEO Strategic Dialogue on the opening day.