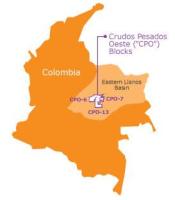 PetroNova Inc. has spud the first exploration well on its PUT-2 Block, located in Colombia's Putumayo Basin.
"The Canelo Sur-2 exploratory well is targeting a robust four-way closure, the first of several on-trend structures identified in the eastern part of the block," said Antonio Vincentelli, President & CEO of PetroNova. "As operator of the block, we are eager and encouraged to initiate drilling our first highly-prospective target on the PUT-2 Block."
The planned total depth ("TD") of the well is approximately 10,300 feet measured depth, or 9,900 feet true vertical depth, with the Cretaceous Villetas Formation as the primary target. The well will be drilled directionally from a three-well surface pad and the expected drilling time to reach TD is approximately 45 days. Once TD is reached, the Company plans to conduct an extensive test program on multiple zones. PetroNova expects to release well results prior to year-end 2013.