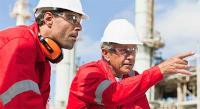 Petrotechnics says that its proprietary software, Proscient™ version 3.0, has achieved certified integration with the SAP® ERP application, version 6.0.
The SAP Integration and Certification Center (SAP ICC) has certified the integration and interoperability of Proscient 3.0 and SAP ERP 6.0 to help organisations operating in hazardous industries, such as oil and gas, chemicals and rail, manage their critical business operations.
Proscient offers companies a new and unique way to visualize and manage risk and activity, empowering everyone in an organisation – from the boardroom to the front line – to make better operational decisions.