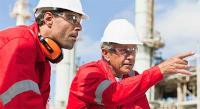 Petrotechnics will deliver a keynote presentation and workshop at the 3rd Annual Shutdown & Turnaround Event in Doha, Qatar, 19th November 2013.
The sessions, which are being held in Doha's Crowne Plaza, will include practical insights and tools for optimising plans in a turnaround environment and mitigating operational risk as part of its ongoing strategic partnership with Fleming Gulf. Petrotechnics will help delegates determine easier, more effective ways of managing workload against risk while also improving plan attainment, reducing backlog and dealing with emergent work.
Petrotechnics Executive Vice President, Iain Mackay will explore the ability to view risk in a more holistic way, enabling operators to proactively manage workload against risk. This ensures the workforce maintains the critical path of a turnaround plan in a safe manner.
Mackay will also discuss how organisations can improve their ability to respond to the dynamic environment and related risks from the high volume, high intensity workload which are typical characteristics of a turnaround.