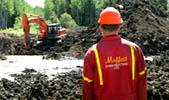 Petrowest Corporation has entered into an agreement with a syndicate of underwriters led by Beacon Securities Limited and Canaccord Genuity Corp. (collectively, the "Underwriters"), which have agreed to purchase, on a "bought deal" basis 18,750,000 common shares (the "Common Shares") of the Company at a price of $0.80 per Common Share, for aggregate gross proceeds of $15 million.
The Company has also granted the Underwriters an over-allotment option, exercisable by the Underwriters in whole or in part at any time on or up to 30 days after the closing of the offering, to purchase up to an additional 2,812,500 Common Shares. In the event that the option is exercised in its entirety, the aggregate gross proceeds of the offering will be $17.25 million.
The Company plans to use the net proceeds from the offering for repayment of corporate indebtedness and for general working capital purposes.