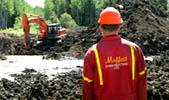 Petrowest Corporation has entered into an amendment to the revolving operating credit facility with Bank of Montreal (the Revolving Facility).
The Revolving Facility has been amended to increase the maximum facility amount from $30 million to $40 million and to extend the maturity date from August 20, 2016 to August 20, 2017.
Lloyd Wiggins, Petrowest's Chief Financial Officer, stated: "the growth in our operating capacity, and the resultant increased working capital requirements, has resulted in a need for an increased operating facility. We are pleased that we were able to satisfy this need with our existing working capital facility".