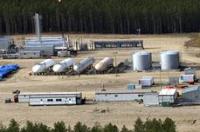 Peyto Exploration & Development Corp. has added two new members to its management team.
Mr. Lee Curran has been promoted to Vice President of Drilling and Completions. Mr. Curran has over 20 years of drilling experience and has held roles of increasing responsibility since joining Peyto's drilling department in 2006, most recently as the company's Drilling Manager.
In addition, Mr. Todd Burdick has been promoted to Vice President of Production. Mr. Burdick has led the production operations of the company through its most recent and dramatic production growth phase from 17,000 boe/d in 2009 to over 85,000 boe/d.
The addition of these two individuals further strengthens Peyto's existing senior management team which is already known for its ability to deliver industry leading returns to shareholders.