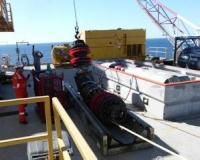 T.D. Williamson (TDW) has successfully completed a pipeline pressure isolation operation in the southern part of the Norwegian North Sea on behalf of a major operator.
TDW was called in to help prepare for maintenance works on an Emergency Shutdown Valve (ESDV) on a 20-inch main gas export line. To achieve this, TDW was contracted to isolate the affected portion of the line and perform a pressure test after completion of the ESDV repairs. TDW provided a wide range of services, including gauge and batch pigging, pipeline isolation and pressure testing.
TDW needed to verify the piggability of the line to ensure that its remote-controlled SmartPlug® pipeline isolation tool would be capable of negotiating the pipeline to the set location and be easily retrieved to the launcher. For this purpose, a full-scale piggability test was carried out at TDW's onshore test facilities prior to the offshore operation.